BUTTONS & FUNCTIONALITIES
To use the jacuzzi, you will only need these 7 buttons.
In order to avoid disturbing the recorded programs we ask you not to touch the other buttons.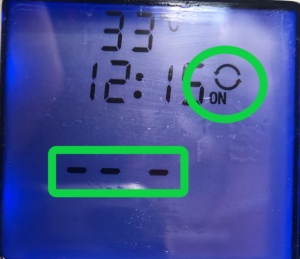 The 2 symbols next to the time indicate that the automatic heating program and cleaning are activated.
The heating is activated from 8 a.m. to 1 p.m. to allow the water to remain at the right temperature while the cleaning cycle as well as the filtration will be activated automatically at night.
You can still enjoy the jacuzzi during these two slots.
The 3 lines below the time indicate that the jacuzzi is in standby mode. You will therefore have to switch to active mode in order to be able to use the different massages.
After use, remember to return to standby mode.
use our hot tub, step by step
If you are there for several days, do not forget to check the presence of the bromine tablet in the filter, as well as in the floating capsule. Additional bromine is available under the kitchen sink.
You can text me via Whatsapps
Additional costs will be requested in the event of deterioration or malfunction of the jacuzzi following non-compliance with the handling rules.